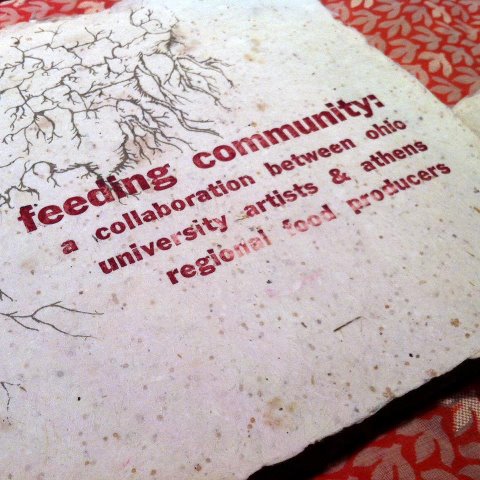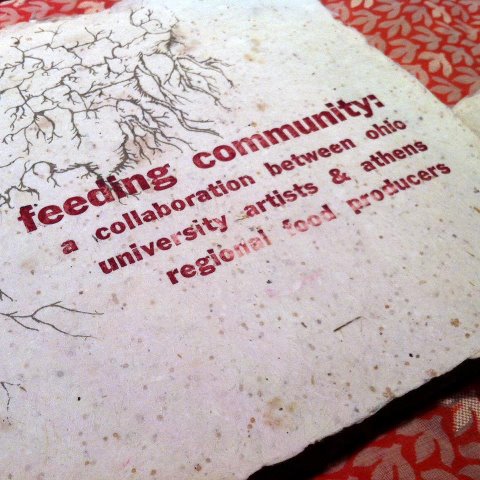 Bringing Art to the Community
I believe the arts are perhaps our most powerful catalyst for lasting community, empathy, and transformation. As a professional musician and literary artist with a theater background, I have experience writing and directing grant projects and writing workshops which highlight the exploration of community, sustainability, critical thinking, and diversity.

(photo: by Jim Harris) "Feeding Community" was a 2012 project partly funded by ARTS for Ohio and co-coordinated with artist/teacher Danielle Wyckoff. It featured undergraduate and graduate students in printmaking and writing; guest writers, sustainability activists and authors; guest paper-making and book artists; and SE Ohio organic food producers. The project paired college students with local food producers and utilized guest speakers/artists in an effort to bring together groups of people who might not otherwise interact. The end result was an edition of 40 hand-made books highlighting SE Ohio's local food movement and made from paper featuring local materials and fibers such as chicken feathers, compost, and seeds. Sales from the book went towards supporting the Athens Farmer's Market, the printmaking program at Ohio University, and ARTSWest, a local community arts center.
Mentoring Opportunities
Writing helps us imagine--and put into action--who we want to be and the world we want to live in.

Whether you're hoping to strengthen your own writing for professional or personal reasons, my mentorship style aims to both encourage and challenge in order to help you produce your best work.

With a decade of tutoring experience in university writing centers, working with media teams to produce effective content for higher education, and teaching in the liberal arts, I mentor projects at any point in the writing process (from brainstorming to proofreading to submitting for publication as desired). I help you find patterns in your writing, areas of strength, and areas that can grow. Overall, I react to and engage with your project as a careful reader and passionate fellow writer.

Mentoring Projects (sliding scale hourly rate or project rate)
One-to-one coaching and editing on projects such as academic papers, personal essays, family memoirs, grants, and poetry manuscripts (face-to-face and online). *ELL writers welcome!

Workshop facilitator (poetry and storytelling, face-to-face preferred)

(photo by Becca J.R. Lachman) At Creative (M)othering Workshops, intergenerational women explore interactive ways of telling their stories and nurturing others' through discussing poems, family histories, and poetry prompts.
Experience
I'm passionate about mentoring, partly because I see the lasting effects of those who mentored/mentor me and my own work.

I've mentored writers and artists ranging in age from 10-80+ in both educational and community settings, including summer enrichment academies for elementary students, youth choral camps, community theater, and grant-funded projects in higher education. I've also been a visiting poet, composer, and creative writing workshop leader on college campuses.

Over the years, my one-on-one mentoring projects have included memoirs, book chapters, academic articles, personal statements for grad school applications, poetry manuscripts, and thesis/dissertation work.

(photo by Danielle Wyckoff): Presenting "Feeding Community" to an Athens OH audience alongside Ohio University printmaking students.